At the end of 2015 there were a total of 332 Condos available for purchase, and 94 units were sold in the last 6 months of the year, according to the MLS today. It is true that there is more inventory available now than there was a year ago, and the pace of sales for existing buildings is not as brisk as it was last year. Much of this is a result of the preconstruction purchases that were made in favor of existing inventory, other factors had to do with the increased strength of the dollar and the economic status of other global economies. Fortunately, Miami Beach is an attractive enough global destination that it is still able to attract investment and new homeowners in spite of these influences, and appears poised to continue this trend for the foreseeable future.
The absorption rate for South of Fifth neighborhood as a whole was just under 22 months, somewhat better than most of the perimeter towers I am looking at in the attached chart. I think this is likely due to the price point as well as the competition from the other new construction opportunities having a greater impact on the luxury towers, than the older low and midrise units in the neighborhood.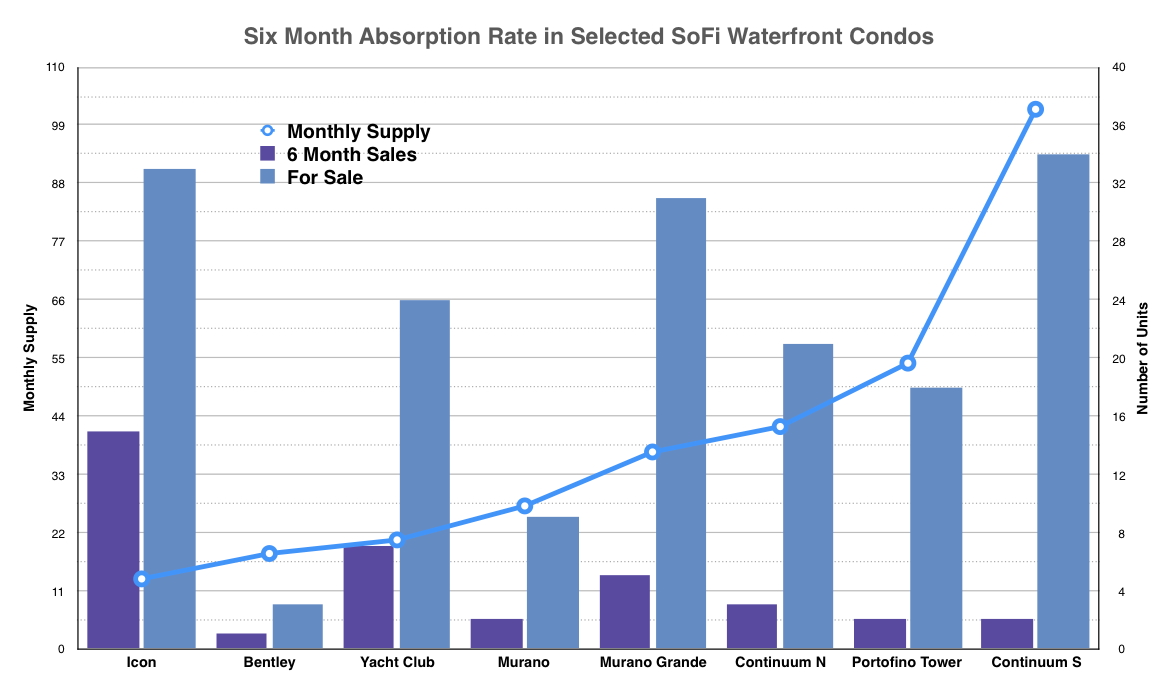 It turns out that the absorption rate of the Icon continues to be the best of the units examined at 13 months, while the Continuum South Tower has the highest absorption rate of 102 months, suggesting it could take 8.5 years to sell all the units currently on the market at the pace which they sold in the past 6 months. Interestingly, both the Icon and Continuum South Tower have almost the same number of units available for sale, but Icon sales exceeded Continuum's by a margin of 15 to 2, resulting in the difference in absorption rates. Similarly, Murano, Portofino and Continuum South all had the same number of sales for those 6-months, but absorption rates ranged from 27 to 54 to 102 months because of inventory variations.
Ideally we look for a balanced market with absorption rates between 6 and 9 months. When rates are lower, the market tends to favor the Seller, and the higher they go, the more they favor the Buyer. However, while this may be a good predictor of the market, it is not the only indicator: price, condition, amenities, governance, and of course, location are always factors, as are the specific needs and requirements of the Buyer and Seller.
For more information, please contact us at info@simplysofi.com.