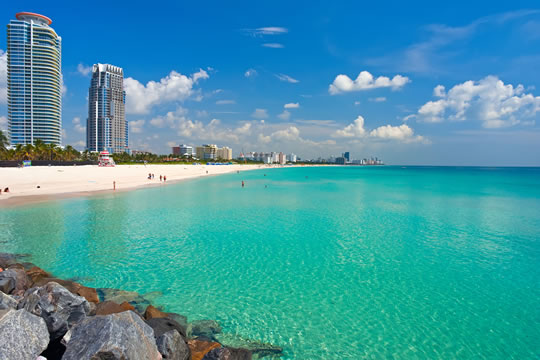 South of Fifth is the cool, residential area located at the southernmost tip of South Beach whose affectionate acronym "SoFi" belies the scale of its natural beauty and takes no account of its status as one of America's most desirable destinations. This is a neighborhood that truly sparkles; its triangular shape being framed on all sides by crystal clear waters and stretches of pure, white sand. The Atlantic Ocean lies to the east; Government Cut nurses the southern shore and to the west lie the sparkling waters of Biscayne Bay.
This trendy, waterfront neighborhood encompasses the five most southern blocks of South Beach and is home to some of Miami's most stunning condominiums. As well as providing its residents with beautiful housing, SoFi is known for its clean, quiet surroundings and is an extremely safe neighborhood, making it perfect for young families. It is an incredibly laid back neighborhood with a distinct family feel, and when you consider the almost total absence of crime and an award-winning elementary school, it is certainly an ideal base for bringing up children.
Further enhancing the family feel of the area is South Pointe Park – an impressive 17-acre urban park which has recently undergone a major renovation. Redesigned and updated, this attractive, bay front park cost a massive $22 million to rejuvenate. With the renowned, upscale restaurant, Smith and Wollensky, a fun-filled children's playground including water jets, and splendid 20-foot- wide walkways lined with Florida limestone, South Pointe Park is perfect for the whole family. Neon light towers even light up the promenade at night, making it the perfect setting for a romantic, night-time picnic.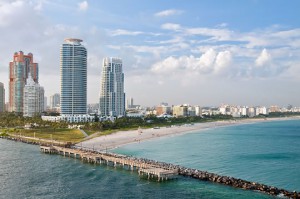 The residents of SoFi enjoy a variety of lifestyles. The MacArthur Causeway connects SoFi to downtown Miami, making it an easy commute for those working on the mainland. Miami International Airport is a mere 20 minutes drive away, placing SoFi firmly on the map for residents with foreign connections. And this most chic of holiday destinations is ideal for those seeking a holiday home or investment property.
For some locals, the day starts at sunrise with a shared yoga class on the beach. Everybody is welcome here at the Pink Lifeguard Stand – the only equipment needed being a large towel and loosely fitted clothing. The group started 10 years ago with the aim of creating a healthier, happier, more cohesive neighborhood – it meets every day whatever the weather. The same group gathers at sundown, ending the day amongst like-minded people with only miles of white sand and the sound of the ocean as a backdrop.
The ethereal beauty of yoga on the beach is not to everyone's taste however. The crazy party atmosphere of South Beach and the irresistible sound of Nikki Beach's dazzling beach parties is music to the ears of many locals. Nikki Beach by night is magical. Flaming torches illuminate the white sand where sumptuous lounge beds provide seating and champagne and lobster top the bill of fare. The exclusive, St Tropez-style, La Piaggia beach club, in the grounds of the Murano at Portofino, is another favorite haunt of SoFi locals as well as being a must-visit destination for international travelers.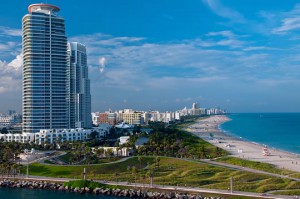 The courtyards and terraces of SoFi's many gourmet restaurants are reminiscent of the elegant pavement cafes of Europe. Prime One Twelve is world renowned, not only for its fine food but also for its celebrity headcount. Regular customers rub shoulders with the famous and no other restaurant in the world plays host to more sports stars than Prime One Twelve. It is the place to see and be seen and where the world of celebrity meets high society.
Miami Beach Marina injects a whole lot of fun into the SoFi lifestyle, providing boat slips for hundreds of yachts and powerboats. Jet skiing, kayaking, surfing, diving and fishing are amongst a host of water sports enjoyed by residents and visitors alike at this lively, friendly marina. Locals love the restaurants, both casual and fine dining. At Monty's Raw Bar overlooking the Marina, regulars eat, drink and dance the night away to the music of live bands. Other visitors wile away the evening watching the boats and wandering around the variety of shops.
The gourmet delicatessen, Portofino Deli Market is a popular stopping off point on the way to the beach. Locals pop in here to pick up supplies for upscale picnics or simply to stock up on their favorite snacks – at more than reasonable prices. Similarly, the Portofino Wine Bank keeps a stock of wines and spirits enough to satisfy the alcohol requirements of the most bibulous South of Fifth partygoers.
For those waterfront residents looking out from the glittering condos rising above Biscayne Bay, there is daytime fun to be had watching the watersports enthusiasts on yachts and jet skis. And as night falls, there is no more beautiful sight than the moonlit bay set against the illuminated silhouette of the downtown Miami skyline.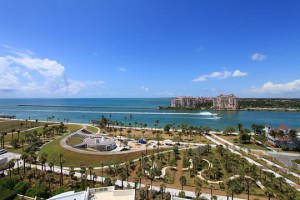 SoFi is a community made up of many parts and many different types of people. The natural beauty of the area is there for all to see; tantalising views of dolphins and manatees and shimmering bodies of water where brightly colored tropical fish teem around the precious coral reefs.
But SoFi is also a thriving community with a successful school, expansive park, burgeoning library and successful museum. It is perfectly situated; away from the congestion of South Beach yet within walking distance of all that the popular area has to offer. It is essentially a secluded paradise, providing its residents with everything they could require on a day-to-day basis. With an impressive concentration of highly acclaimed world class restaurants, designer stores and an array of hip bars and nightclubs, this is an area perfectly suited to adults and children alike. The recently opened 5th & Alton shopping mall is a welcome newcomer, giving locals their own supermarket and retail center, adding to SoFi's neighborhood identity and helping to draw the community together.
Residents awake to streams of glorious sunlight, in a relaxed community that offers a safe, carefree way of life and encapsulates the essence of living in SoFi: private, exclusive, walkable and, last but not least, exciting!