Tucked between a couple of low rise condominiums on the 200 block of Collins Avenue is the South Beach Victory Garden, a little known but greatly treasured amenity of the SoFi neighborhood.
As a matter of inventory, the garden consists of 60 raised beds, a shed for tools, and storage bins for supplies.  There is a compost area, planting/harvesting tables, a water source and perimeter benches under Palm tree borders.
The City redesigned the space with an artful perimeter fence featuring ceramic tiles that pay tribute to the Victory Gardens of WW II.  A growing number of active residents keep the garden community vibrant through a volunteer committee.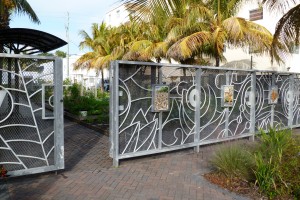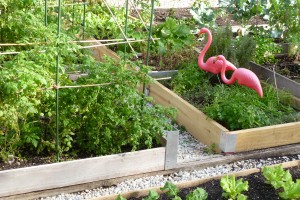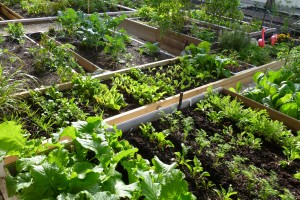 The garden works well because it is many things to many people.  A tropical oasis in the middle of a concrete urban center, it provides a place of solitude for some, and a meeting place for others.  Young families with children plant their first seeds and care for and harvest vegetables and herbs and flowers. Experienced gardeners produce abundant crops, while continually trying to figure how to grow under extreme Florida conditions.  Others are just happy to stay ahead of the weeds.
The Garden meets monthly on the second Sunday from 10:00 AM until noon.  New gardeners are welcome to come at that time or to request a space at Facebook/SouthBeachVictoryGarden.